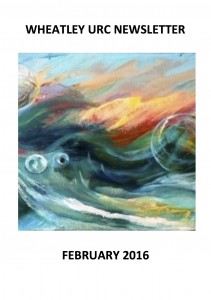 My paintings come in different shapes and sizes and often it is necessary to provide a smaller section in a certain shape. That was the case this week when I needed to send a square image from a very long narrow picture. What section would be most representative of the whole, or what part would stand best on its own to make a new picture?
There were so many different possibilities.
As I was deliberating and wondering what to do for the newsletter this month I remembered that the week of prayer for Christian Unity comes at this time of the year and what I was doing with my painting seemed to be a possible metaphor for our different denominations.
It was as if Christianity was represented by the complete picture, but each part of the Christian church had a section of this whole. Some of these sections were close to each other and even overlapped. Others were separate and appeared quite different.However each was essential for the whole painting and the weave of the underlying canvas was the common support.
I suppose the metaphor could be taken further. Just as I was responsible for creating my square image from the whole, we too have been responsible for creating a smaller Christian community which has a wholeness of its own. But it is important to reflect that there is also a bigger picture. Of course that picture is much larger than we can imagine, embracing other faith communities too.
Well the newsletter editors prefer square images so I thought that you could see what I selected from The Eye of the Storm. The complete painting can be seen below. I wonder what part you would have selected?
Christine