The Cogwheel Project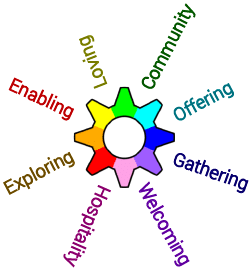 Fondly referred to as The Chapel, or simply as The URC, Wheatley United Reformed Church has been working in the village for some 230 years, offering a message of hope, care and justice both to the local community and to the wider world. To serve these purposes, in the early nineteenth century it acquired a redundant tannery barn to convert to a chapel (renovated 1998), built a schoolroom (church hall) in 1898 and added an extension with two small rooms in the 1960s.
Recently it was recognised that the 1960s extension was no longer fit for purpose and a working party was formed charged with coming up with a plan to update the buildings to meet the needs of the 21st century.
The decision was made to pull down the old extension and build a new annexe on the site with a bright, open multi-use space, incorporating a kitchen corner. There is a new entrance area and there are facilities for disabled people.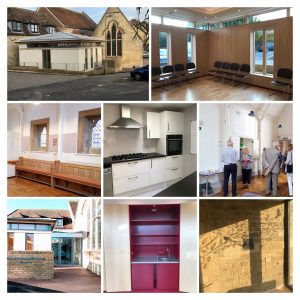 The new space is called 'The Mulberry Room' and offers opportunities for more activities such as workshops, focus groups, a break-out area and for social gatherings. It is also a place of stillness and meditation and complements the well-used Victorian church hall which has also been renovated with a new roof, a reconditioned floor, a hearing loop, echo suppressant and blinds on the south-facing window. In addition the kitchen has been refitted with two new ovens, a gas hob and new units.
In tandem with the planned major improvements at the parish church of St Mary's, The Mulberry Room is intended as a community resource with comfortable space for gatherings of up to 25 people. Co-operation between the churches in Wheatley is now long-standing and facilities are readily shared.
Funding: The church wishes to thank all who have contributed so generously to the success of this project. Donations were received from the local community, local churches and friends of Wheatley URC as well as church members and the Wessex Synod of the United Reformed Church. The church was also delighted by the enthusiastic support of local and national charities and trusts: the Allchurches Trust; the Bernard Sunley Charitable Trust, the Congregational and General Trust, the FCC Communities Foundation, the Garfield Weston Trust, the Oxfordshire Historic Churches Trust, the Trust for Oxfordshire's Environment, and the Midcounties Co-operative Good Causes Fund (Wheatley Coop).