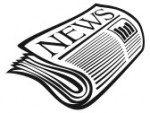 We produce a monthly Newsletter for church members and friends. It is distributed on the 4th Sunday of the preceding month in the church and a digital copy is archived here.
Newsletter Archive
Since the Newsletter can contain personal information we have protected the Newsletter Archive by a password. All members and friends of Wheatley URC may register for the password.
If you know the password you can login to Wheatley URC Newsletter Archive.
If you would like a password or have forgotten it then you can register for the password.
Newsletter Art
Christine Bainbridge has produced original artwork for the covers of these for many years. See Newsletter Covers for a gallery of older images.